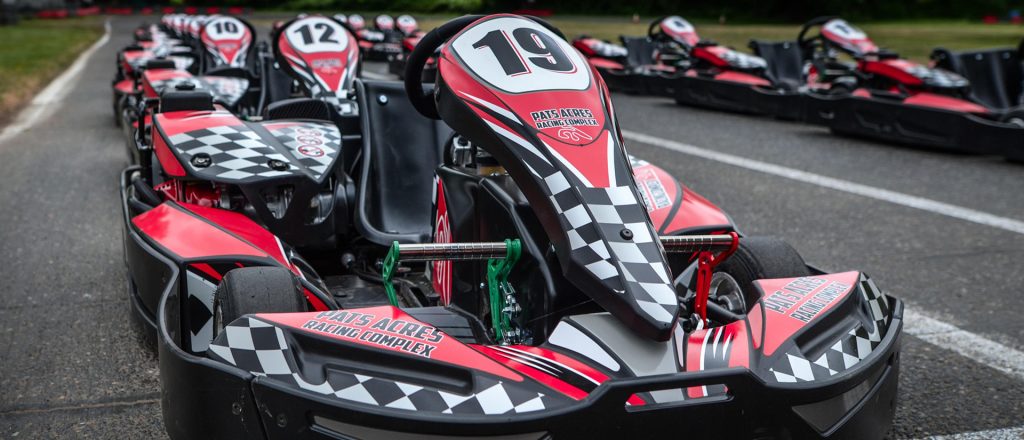 PRICE
INTRO TO KARTING
REASONS TO DO A LESSON
HOW IT WORKS
PRICE
$199
Includes 5 on-track sessions with an instructor, a helmet liner & your Pat's Acres Day Membership!
INTRO TO KARTING
REASONS TO DO A LESSON
HOW IT WORKS
DRIVING SCHOOLS ARE HELD THE 3RD MONDAY OF EVERY MONTH, APRIL-SEPTEMBER!
PARC offers a program designed to introduce kids and adults to the world of karting. Lessons are done in a class setting and are designed to meet each person's driving level, ranging from a 6 year old with absolutely no driving experience to the 20 year old aiming to perfect their driving skills.
Our goal is to teach the drivers the rules of racing and allow plenty of time to emphasize fun and learning with the basics of performance driving! These lessons are done in one of our "arrive and drive" 50MPH Rental Karts or in our 35cc Kid Kart (for drivers who are too small for our adult karts).
A proper introduction and education can make all the difference. Along with lots of track time, we will introduce the drivers to race track etiquette, teach them throttle and brake control as well as teach them what to expect when their first race day rolls around. Adults can get some instructions and track time in a variety of karts.
Get some seat-time before spending thousands of dollars on equipment, make sure that karting is something you are going to enjoy.
APRIL 15, 2024 : BOOK NOW!
JUNE 17, 2024 : BOOK NOW!
JULY 15, 2024 : BOOK NOW!
AUGUST 19, 2024 : BOOK NOW!
SEPTEMBER 16, 2024 : BOOK NOW!